I have a boybandtastic (it's a new word I'm coining) song to share with you in this second installment of my 'Back In the Day' series: one you are probably expecting for me.

It's a usual suspect:
*NSYNC
.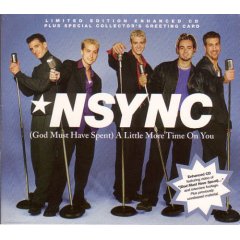 I felt now was a relevant time to discuss my favorite boy band, a band I very much associate with my "youthful" days of yore. Not just because
Justin Timberlake
's new duet with
Ciara
has recently leaked (If you're curious, I'm not impressed. The whole song sounds like a "FutureSex/LoveSounds" b-side with a chick singing it...which I'm guessing it was, and Ciara is so
Rihanna
-wannabe sounding, I can't stand it.). No, it is relevant because at this time, this very week give or take, back ten years ago to February of 1999, "God Must Have Spent A Little More Time On You", *NSYNC's third single (and lengthiest title-wise), hit it's peak on the Billboard Hot 100 Chart.
"God Must Have Spent..." was *NSYNC's first ballad released stateside, and was in fact, only released in the USA and Australia. It was released to radio in November of 1998, around the same time as their Christmas single, the God-awful-but-so-cheesy-it's-classic "Merry Christmas, Happy Holidays". The song saw it's peak this week ten years ago, landing at #8 on the Hot 100, and from what I gather, it was the group's biggest hit at that point (they would later see "Bye Bye Bye" peak at #4, and have a #1 with "It's Gonna Be Me" just one year later).
The song was written by
Evan Rogers and Carl Sturken
, a lesser known
(but still bubblegummy) writer/producer set. It was a stark contrast from *NSYNC's two previous singles which were written by pop brillance writers
Denniz Pop/Max Martin
("I Want You Back") and
Max Martin/Kristin Lundin
("Tearin' Up My Heart") who wrote so many pop classics from this era it would be ridiculous and exhausting, not to mention redundant, to write them down here.
However, Rogers & Struken did have their own string of pop goodies, many of them performed by prominent pop artists of this time period, to their name, the biggest to me being
Boyzone
's "All That I Need", which hit #1 in the UK in 1998. For a while, they seemed to write popalicious b-side/lesser known tracks for all of pop's divas. They penned
Christina Aguilera
's "Love Will Find A Way" and "Love For All Seasons" from her debut album (and little known factoid: did you know Xtina's "When You Put Your Hands On Me" was co-written by
Robin Thicke
?).
Kelly Clarkson
's third real single, "The Trouble With Love Is", was penned by this duo as well, as was
Jessica Simpson
's "Betcha She Don't Love You" from her 1999 debut album,
Sweet Kisses
. But, in a millenial pop landscape, Rogers & Sturken's best known hit is without a doubt, the song that officially launched
Rihanna
: "Pon da Replay", her debut single from her debut album,
Music of the Sun
, along with the vast majority of the rest of that album.
But back to *NSYNC. "God Must Have Spent..." showed a new side of *NSYNC, in a market that was ripe with poppy boybands with bouyant dance moves and cheesy grins. This song showed a more tender, R&B type of side of the band, trying to focus more on the group's harmonies and vocal prowess than their good looks. The music video was mostly in black and white and featured several scenes that were set in the World War II era (
Jonas Brothers
' "Love Bug"...anyone else notice the similarities?). The song was dedicated to the boys' mothers, or so they said. I still remember buying the CD single for the song, whose b-side was their exquisite cover of
Christopher Cross'
"Sailing." It contained a printed "message to the fans" from the band itself, stating "God Must Have Spent A Little More Time On YOU", signed by each of the five members.
It was the first video by the band I remember watching the premiere of excitedly on MTV's 'Total Request Live'. And it helped fuel my obsession with one of the 90's biggest teen icons.
Credit to the flexibility of the song, it was covered by country group
Alabama
, and released to radio as a single by the band. It went to #3 on the Billboard Country charts, and peaked just within the Top 30 on the Hot 100 in August of 1999. The song was also covered in 2002 by a jazz musician,
Kirk Whalum
, and his version was nominated for a Grammy Award that year for Best Pop Instrumental.
Below is *NSYNC's music video for the song.
Click here
to watch Alabama's cover version.