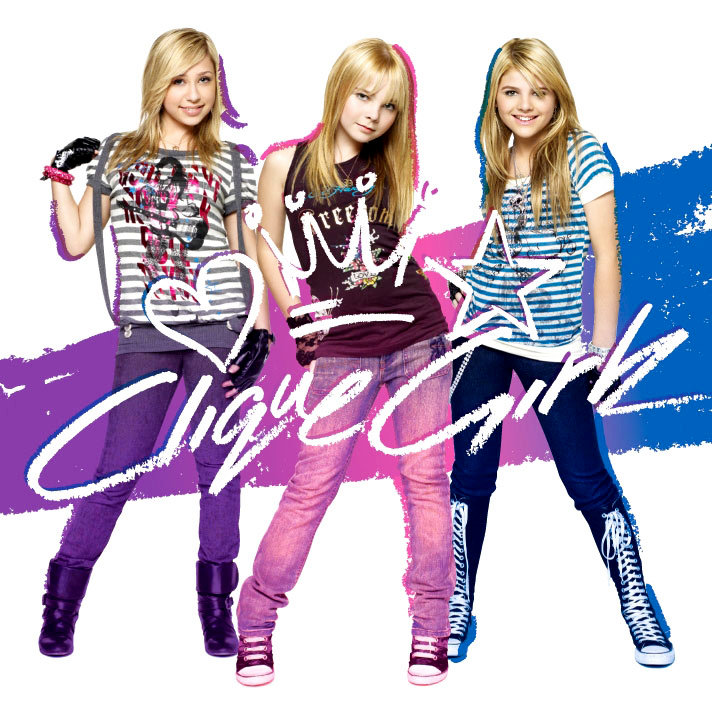 Ahh, the ever fickle pop girl group market. 2009 seems like it will be a year rife with girl groups, ranging in genre from pop (
Candy Coated Chaos, The Saturdays, Dream
), r&B (
Sophia Fresh, Electrik Red, Rich Girl
) to throwback (
Lady Phoenix, The Pipettes
). My feeling is, if you're gonna attempt to break a pop girl group, it's gotta be done right and done big. That is what all of these artists are attempting to do.
There is no question there is a dime a dozen girl groups (especially of the trio persuasion), but that was especially true a few years back when I first heard about CCC, what with the breakthrough singles (at least to me) by
Tiffany Affair
("Over It"),
LAX
(which became LAX Girlz or Gurlz, which became Kali Girls/Girlz/Gurlz) ("Forget You") and
A Girl Called Jane
("He's Alive"). All three songs are still blazing in my ear. However, we were always pretty much lacking in terms of a more kid-friendly pop girl group. Enter
the Clique Girlz
.
This (former) trio of Disney-vying girls first formed in 2004 as "Clique", but quickly added the "Girlz" to the end. Why, I don't know -- I never liked that addition (::cough:: LAX/Kali Girlz, or
that bastard coalescence that is The Beach Girlz
::cough::) into a band name, but whatever floats your boat, I suppose. I guess it works best for them, seeing as they were focusing for a younger audience, as their chief avenue for airplay was Radio Disney.
The group is made up of sisters Destinee, 14, and Paris, 13, Monroe, from New Jersey. The group also used to include Ariel Moore, also 14, who was apparently close friends with the two sisters. However, it was announced this past week that Moore would be exiting the group, possibly due to infighting (or so the blogs say) or for a solo career. That rumor was definitely fueled by
a video Moore made herself
to admit publically she is leaving the group, rather candidly. Either way, the Monroe sisters will continue on as a duo for now, and are searching for a third member. (MEL's NOTE TO SELF: dye your hair blonde and pretend you are six years younger so you can FINALLY be a popstar...hey -- if I can't be the sixth
Saturday
or a member of
the new Dream
, then this might be my only in while I still look young enough to pass as 16). This news is so recent, none of the official Internet platforms have been updated without Moore's picture. The group is signed to Interscope. No word on how this will affect their future, but more on that later.
The Clique Girlz are an interesting subject to me. To be sure, all three of the girls are talented enough to appeal. They are very young, and each plays an instrument. They are the first real emergence of a Disney-ish artist that isn't signed to Hollywood Records (with the exception of
Ashley Tisdale
, or say...
Taylor Swift
). This definitely could have worked to their advantage, but at the same time, could definitely be a stumbling block. Because Disney is the marketing machine that it is, it has no commercials on its network except for its own shows, products or artists. This is the reason why the
Jonas Brothers
, initially just a pop/rock
Busted
-wannabe band from Jersey signed to Columbia who got ditched for underwhelming sales of their debut album became worldwide superstars.
Interscope obviously was hoping for some of that success to their own trio of (female) Jersey kids. But they are one of those question marks in the teen pop market. Sometimes it works, sometimes it doesn't.
Sometimes, you know exactly why a career doesn't start off. My beloved
Soluna
didn't have the arm behind them that The Clique Girlz do, as they were signed to DreamWorks Records, which at the time was semi-independant. They had the vocals working for them, and they opened up for
Marc Anthony and Enrique Iglesias
. Their song "For All Time" was a modest success at radio, but they weren't as young as
Destiny's Child
before them, so it was hard for people to connect to them in a mass appeal way, as the business had changed. It's fickle that way.
Another example I like to use is
PYT
, a Florida based girlgroup made of four teenage
best friends that were signed to Epic Records when they were pre-teens back in the late 90's. They opened up for
Britney, *NSYNC, Destiny's Child, Mandy Moore, LFO,
etc. etc. all of the staples of that teen pop era. They performed a Super Bowl pre-show and one of the (semi-irrelevant) Teen Choice Awards. They had songs on the soundtracks to "Center Stage", "Miss Congeniality" and "Bring It On". They were even featured as extra's in the video for Mandy Moore's most commercially successful single, "Candy".
Their album came out in August of 2001, just as the shift away from teen pop slowly began it's move in the US. Still, very few people knew who they were, and they were dropped shortly after due to slow sales. However, the fans that they did have still look back on them fondly, and dream of what could have been (or at least I do), because they were every ounce as good as
3LW
or
Dream
, who had much more success. Click
here
to watch their music video for "Down With Me", the second of their three "first" singles (the others being "Something More Beautiful" and "Same Ol' Same Ol'").
I fear the same will happen to the Clique Girlz, especially now that they are down a member. Despite touring with the
Backstreet Boys, the Click Five, the Cheetah Girls, Billy Ray Cyrus
(...creepy?) and the aforementioned brothers Jonas, and recently clinching a
deal with the Baby Bottle Pop candy line
(although, again, who knows what will happen with that now that Moore has exited), I fear these girls will just be yet another almost footnote in the late 2000's pop legacy.
Unlike with Soluna, the Clique Girlz were marketed pretty flawlessly. I'm sure some of their fans will disagree, but in terms of a new artist, especially in a super-competitve area like Top 40, these girls have opened for some major peeps for their market and got some serious TV coups like performing in the Macy's Thanksgiving Parade this year.
Sure, there are things about them that grate my nerves. Their pink/purple/blue logo fixation is one of them, but I see how it would appeal to their market. They remind me of a three-girl version of
Huckapoo
, a poorly envisioned girl group based on "character profiles" created in the early 2000's by the same people who created
Dream Street
in a lame attempt to sheep off
Jesse McCartney
's sudden and unexpected super-success in a teenage
Spice Girls
kind of way. There is nothing about them that particularly sets them apart from the second you see them.
In fact, if I were less informed than I am, I would think they were somehow connected to
Triple Image
, a three girl group made up of three sisters from Florida that was handled by megamanager
Johnny Wright (Britney, Justin/*NSYNC, BSB, now the Jonas Brothers)
. Their debut album was made up of forgettable pop froth and was released in 2002. I'll admit to owning a copy, and to still listening to their semi-cover of
Girl Thing
's "Last One Standing" from time to time (they are just one guilty pleasure among my many -- in fact...I should pull that sucker out now that I think about it).
It's not that their music is bad. "Then I Woke Up" walks a perfect border of teen pop/teen pop rock/and sugar (although, the lyrics are pretty...eh). "How Do You Like Me So Far?" is pretty darn catchy. My personal fave is "Smile", which was remixed by the infamous and so darn omnipresent
RedOne
(and yes, it features his tradmark back beat -- I promise an article about him soon -- I know I'm behind the curve!)
, and it's in fact, the only song by the group that I actually own and listen to.
The thing is, it's just nothing new. They have nothing to really set them apart out of the dozens of other teen pop acts just like them. Do I feel like it's a waste? Yes and no. They seem like perfectly nice girls, good role models, semi-talented, and it's always sad when everything supposedly going as planned still doesn't connect. I hurt
for
them.
I've rambled for long enough (but that's what I tend to do on this blog -- and I promise to do more of it the future). I'd be interested to hear your thoughts. Do you like the Clique Girlz?